1. Human

- this is how I cool down on a hot day! ;-)
2. Least Chipmunk


3. Yellow-pine Chipmunk


4. California Ground Squirrel


5. Douglas Squirrel

another
6. Black-tailed deer - Bucks

another buck! a buck herd!, 4X4, another 4X4
Doe

- Fawn

- Fawn - Fawn - More!

7. Weasel (sorry, no photo yet)

8. Black Bear

- this bear first visited us in 2009 - it has a beautiful 'mantle' so we call him "Mickey"! He returned in 2012 and twice took a swim/bath! We recorded him the 2nd time and put the one minute video clip up on YouTube. More images of his swim are on Flickr & jAlbum. In 2014 our new TrailCam caught him visiting 3 different times. This time in June is an AMAZING photo We didn't see Mickey again until 2017; he'd grown A LOT!!


Another bear visited us while we were eating dinner on the deck in 2011. And in 2013 our 'trail cam' caught a bear by the pond, it could be the same bear as in 2011, hard to tell as it is a night shot

9. Big Brown Bat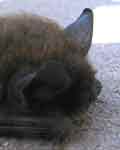 This one might have been ill...found on deck.
10. Bobcat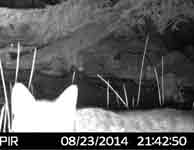 (I saw it in daylight but didn't get a photo)
11. Raccoon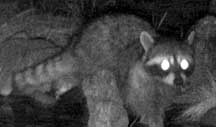 Visits about once a month!
12. Snowshoe Hare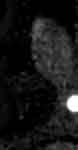 Found in the bog by our 'trail cam'!
13. Black-tailed Jackrabbit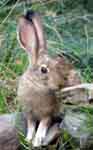 Came in for a drink!
---
Birds: (We're the only water around and an arid climate - water attracts a LOT of birds!)


1. Fox Sparrow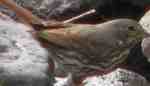 more - another
2. White-crowned Sparrow

- another - immature
3. Mountain Chickadee

another

4. American Goldfinch



5. Golden-crowned Sparrow

- immatures
6. White-headed Woodpecker - male

, female

another female
It's hard to get enuf of this species! - a wet male, another wet male , another male
7. Stellar's Jay

- a young one! - a noisy one! Another!
8. Audubon's Warbler (aka Yellow-rumped Warbler)
Spring male, - an albino! a pair, same pair - Photos by visitor Doug Aguillard: 1, 2, 3, 4
9. Dark-eyed Junco

, wet! collecting nesting material
10. Cassin's Finch

- another - another Photos by visitor Doug Aguillard: 1, 2, 3, 4 (female)
11. Spotted Towhee

- another
12. Pine Siskin

- more! Photos by visitor Doug Aguillard: 1, 2, 3 (female), 4 (female), 5 (female)
13. Red-breasted Nuthatch

- another - another Photos by visitor Doug Aguillard: 1
14. Evening Grosbeak - male

- more - sometimes it 'rains' Grosbeaks! female & male pair
15. Hermit Warbler

another, another, Photos by visitor Doug Aguillard: 1 2, 3
16. MacGillivary's Warbler

Another one - Photos by visitor Doug Aguillard:1
17. Western Tanager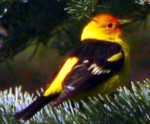 - young male, younger male, wet male, female, another female
- Photos by visitor Doug Aguillard: 1, 2
18. Red Crossbill

- females Photos by visitor Doug Aguillard: 1, 2 (female)
19. Yellow Warbler

another image backside, a thirsty one! And a gorgeous photo by visitor Doug Aguillard: 1
20. Nashville Warbler

, another, more!!
21. Lazuli Bunting

- like a piece of fallen sky! more, more!
22. Mountain Quail

another, with chicks
23. American Robin (male)