Visitors to our Mt. Shasta Pond
In order seen within animal type.
---
BIRDS: Before the pond was even filled, the birds started arriving: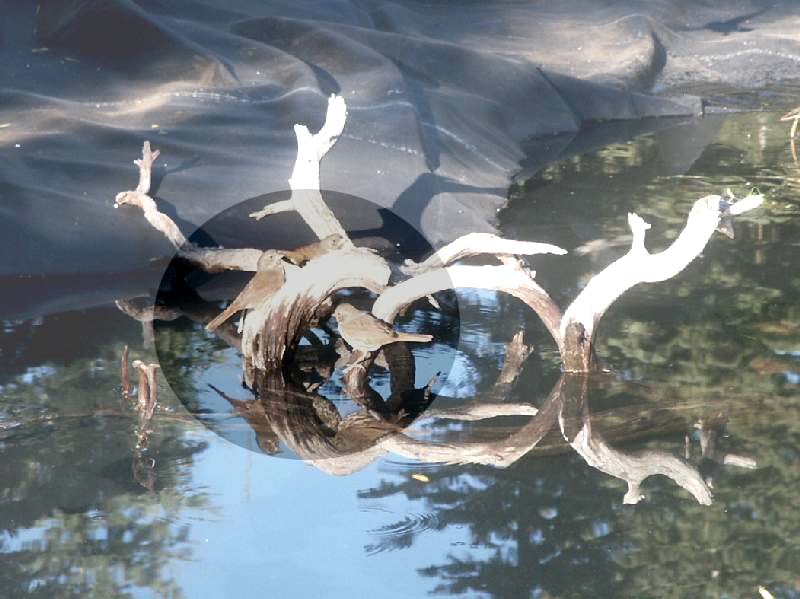 Fox Sparrows came in for drinks! And a Western Fence Lizard used the manzanita branches as an escape when he fell into the pond as it was filling - ALWAYS provide an escape route for your critters!
This site is under construction - come back soon!
Mammals
1. Human - this is how I cool down on a hot day! ;-)
2. Least Chipmunk
3. Yellow-pine Chipmunk
4. California Ground Squirrel
5. Douglas Squirrel
6. Black-tailed deer - Bucks - Doe - Fawn - Fawn - Fawn - More!
7. Weasel
8. Black Bear - only one visit - with a beautiful 'mantle'
Birds: (We're the only water around and an arid climate - water attracts a LOT of birds!)
1. Fox Sparrow more
2. White-crowned Sparrow more
3. Mountain Chickadee
4. American Goldfinch
5. Golden-crowned Sparrow
6. White-headed Woodpecker male
7. Stellar's Jay
8. Audubon's Warbler - albino! - Photos by visitor Doug Aguillard: 1 2
9. Dark-eyed Junco
10. Cassin's Finch - Photos by visitor Doug Aguillard: 1
11. Spotted Towhee
12. Pine Siskin - Photos by visitor Doug Aguillard: 1 2 3
13. Red-breasted Nuthatch - Photos by visitor Doug Aguillard: 1
14. Evening Grosbeak - female
15. Hermit Warbler - Photos by visitor Doug Aguillard: 1 2
16. MacGillivary's Warbler
17. Western Tanager - male female
18. Red Crossbill - Photos by visitor Doug Aguillard: 1
19. Yellow Warbler
20. Nashville Warbler
21. Lazuli Bunting - like a piece of fallen sky! more
22. Mountain Quail with chicks
23. American Robin
24. Mourning Dove
25. Tree Swallow
26. Western Wood Peewee
27. Warbling Vireo
28. Green Tailed Towhee
29. Brown-headed Cowbird
30. Northern Flicker
31. Chipping Sparrow
32. Northern Pygmy Owl
33. Black-headed Grosbeak
34. Band-tailed Pigeon
35. Golden-crowned Sparrow
36. Cooper's Hawk
37. Spotted Towhee
38. Pine Gorsbeak
39. Solitary Vireo
40. Orange-crowned Warbler
41. Wilson't Warbler
42. Williamson's Sapsucker - what a treat!
43. Allen's Humingbird
44. Hairy Woodpecker
45. Ruby-crowned Kinglet
46. Western Bluebird
47. Empidonax flycatcher species
48. Hermit Thrush
49. Scrub Jay
50. Common Nighthawk - scoops down to get a drink in flight!
51. Golden-crowned Kinglet
52. Sharp-shinned Hawk
Reptiles and Amphibians:
1. Western Fence Lizard
2. Pacific Tree/Chorus Frogs - polywog with hind legs
3. Shasta Alligator Lizard
Insects
1. Darner Dragonfly - See other Dragonflies in separate Odonata section (below)
2. Damselfly (emerging) - See other Damselflies in separate Odonata section (below)
3. Backswimmers
4. Diving Beetles
5. Yellow Jackets
6. Water Striders - even on the pond when iced over (at least for a while!)
7. Potato Bug/Jerusalem Cricket (2 have drowned!)
8. Day flying moth - See other Moths in separate Lepidoptera section (below)
9. California Tortoiseshell - See other Butterflies in separate Lepidoptera section (below)
10. Water Wasp
Odonata: Dragonflies & Damselflies:
1. Common Green Darner
2. Familiar Bluet
3. Twelve-spotted Skimmer newly emerged
4. Western Forktail
5. Swift Forktail
6. Black Saddlebags
7. Pacific Forktail
6. Cardinal Meadowhawk - another view
8. Black-fronted Forktai
10. Common Whitetail
11. Variegated Meadowhawk
12. Shadow Darner
13. Variable Darner
Lepidoptera: Butterflies and Moths
1. Tiger Moth (Day flying Moth)
2. California Tortoiseshell
3. Lorquin's Admiral
4. Great Basin Wood Nymph
5. Painted Lady - side view
6. Northern Checkerspot
7. Skipper
8. California Sister