Here's a view of the house as you drive in the driveway: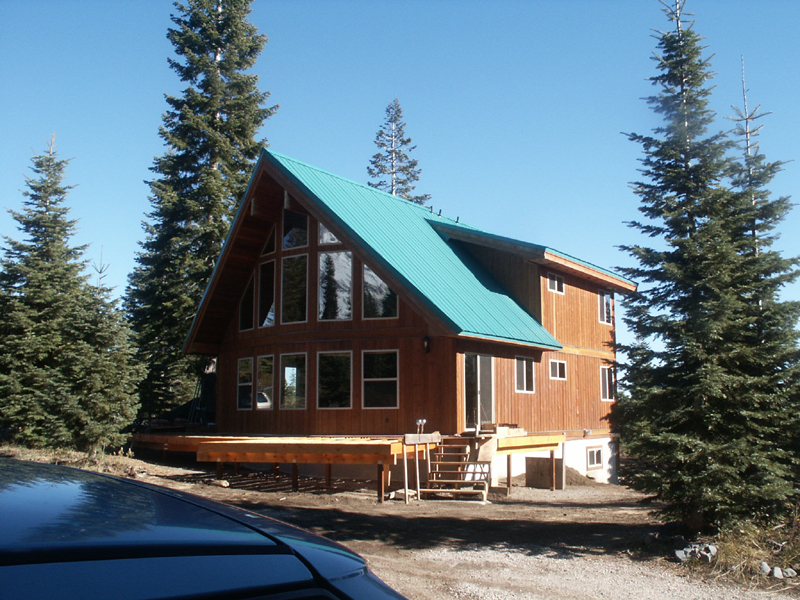 We're afraid that the decks aren't in yet.
---
Here's the floor plan so you can orient yourself when you view the upcoming photos!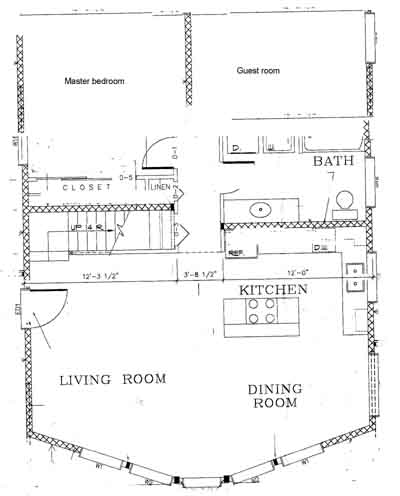 ---
You come in thru our 'temporary deck' at the Green Door!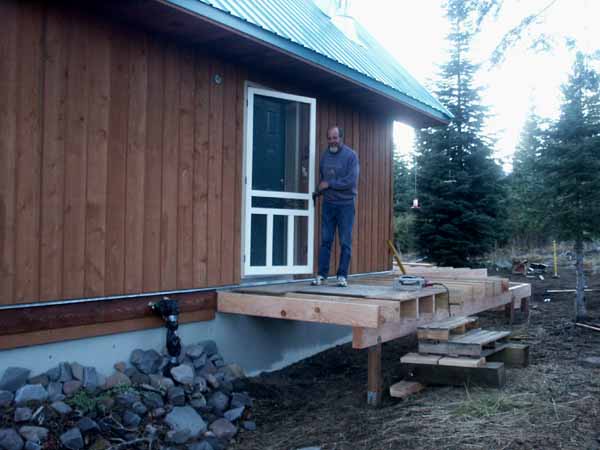 Not to worry - it now has real nailed on steps on risers, they just won't be of the final decking material yet!
---
One of the main differences between this visit and any other Thanksgiving you've ever had is that we don't have electricity!
That means, no TVs. But we do value your company and we do have board games and cards!
But, as of 2 days ago, we do have the ability to light up the house, and even use the oven. However, we have to run the generator to do this and it is NOISY! We mostly use an inverter and battery to have 2 'reading' lights going at night, plus candles and lanterns - very romantic! And we'll BBQ the turkey ourdoors!
Here we are celebrating 'Let there be light'!!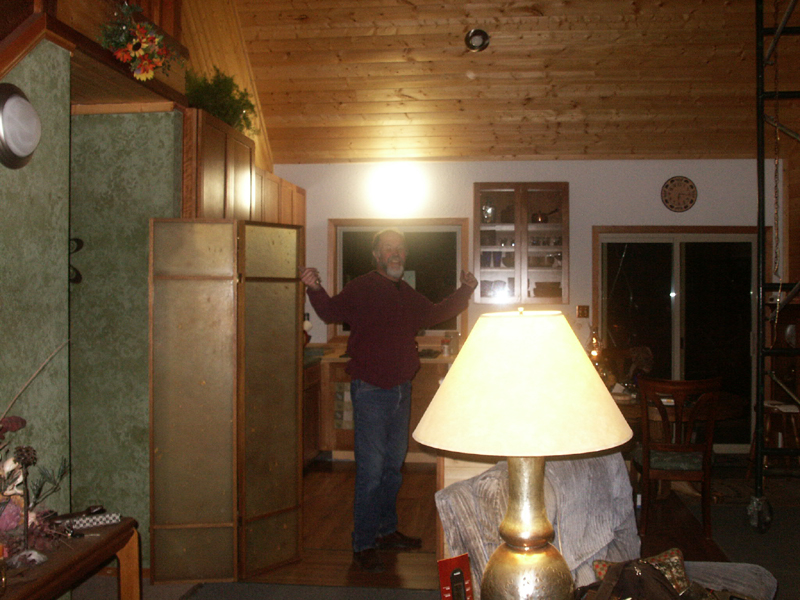 ---
If you looked closely, you might have noticed some wheels near the right edge of the photo. That apparatus, the scaffolding is down now - Thanks goodness! We used it to finish staining the upper front windows, and the electrician used to hang our ceiling fan.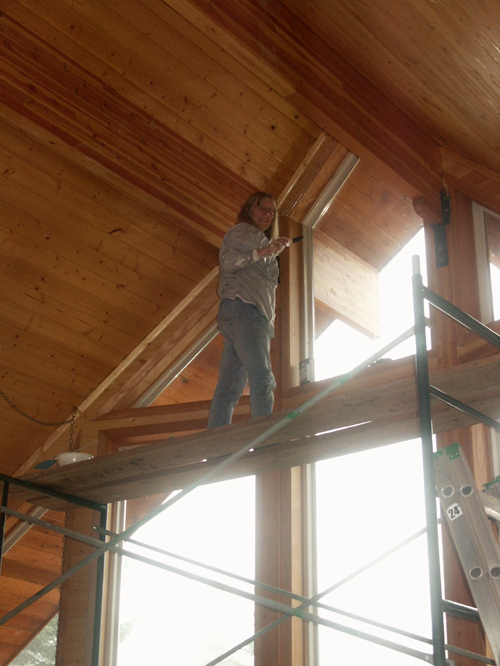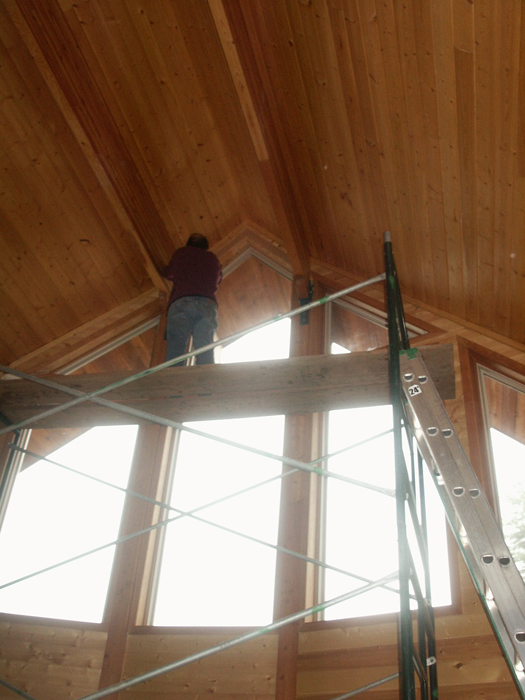 Man, that was scary!
---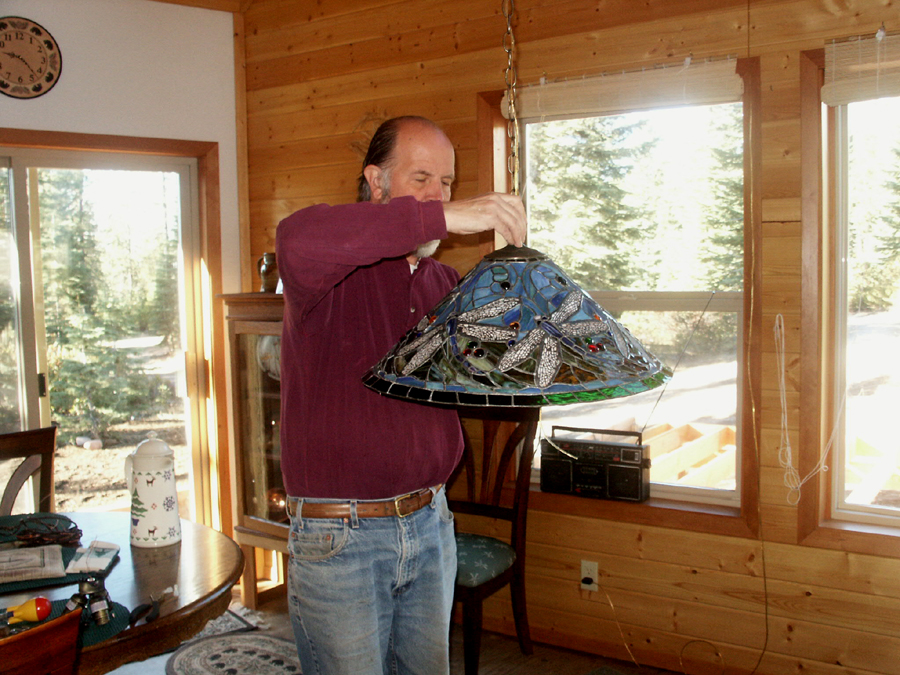 Here is Dave installing our special dragonfly lamp. Jody, were you with us when Grandma was with us and we first saw this in San Juan Bautista on the way home from Wes's USC graduation ceremony?
---
We're assuming that Maria will stay in our downstairs guest bedroom. It has a double bed and a door that closes. However, it can be a cool room, so we've got a heavy quilt on the bed and a small electric heater in the room. However, we'll only be able to run the heater when the generator is on.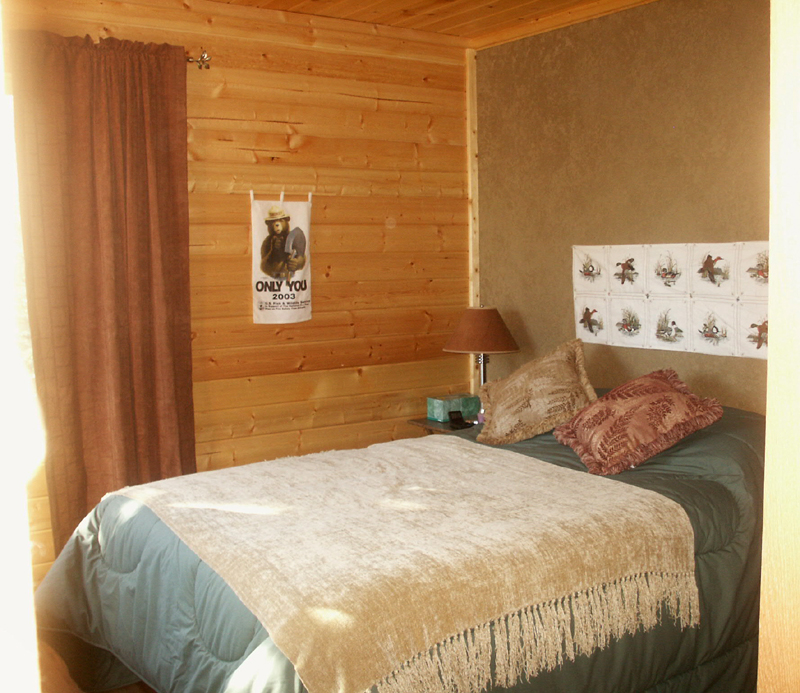 ---
Jody and Steph will have a choice of either of two queen-sized beds upstairs.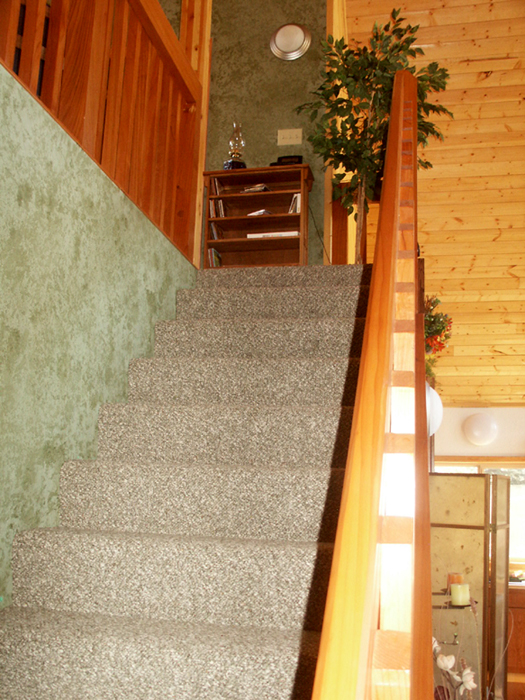 This is the warmest area on the house, and one bed is around the corner from any view from downstairs (It is a double high air bed with a single high airbed on top of it.) Dave and I have used it and it's really comfy. The new bedspread we ordered hadn't arrived yet when this picture was taken: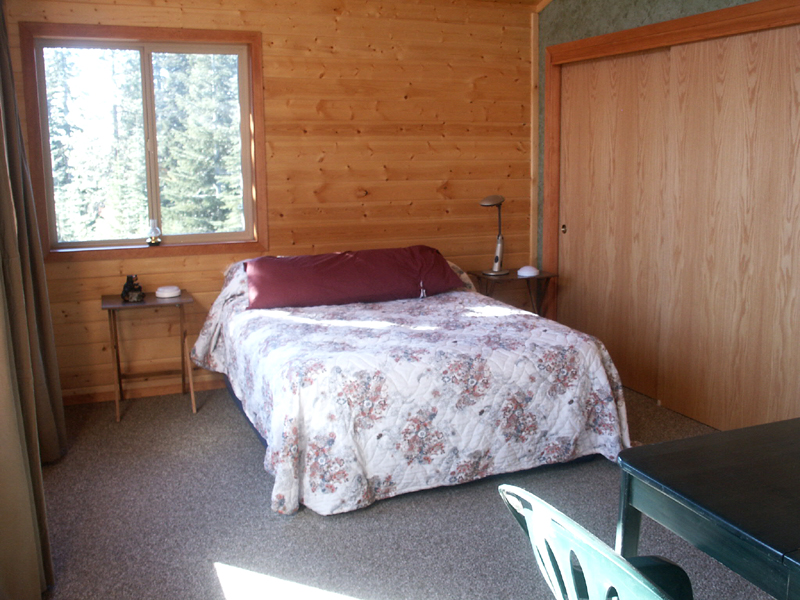 Their other option is to use the queen-sized futon. It folds open and has a great view of Mt. Shasta: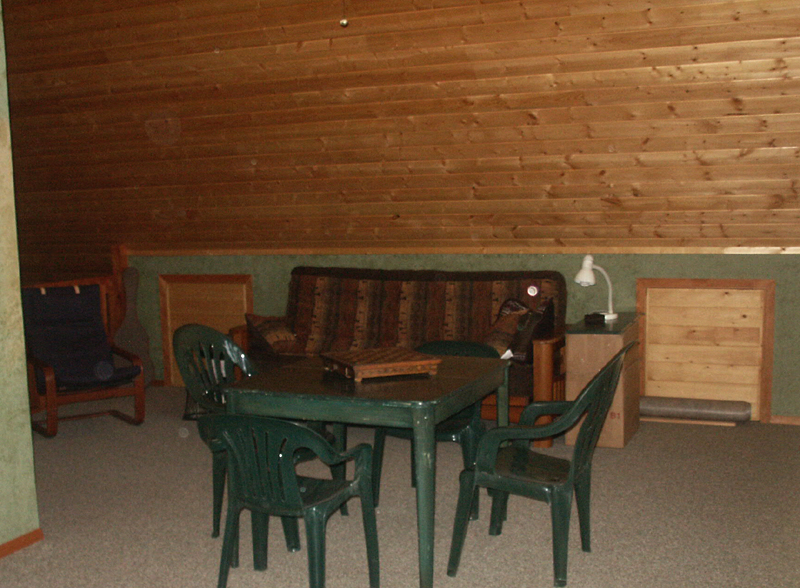 We've slept very comfortably on this bed too!


The mountain glows PINK (!) at dawn!

There is a private bathroom for the upstairs: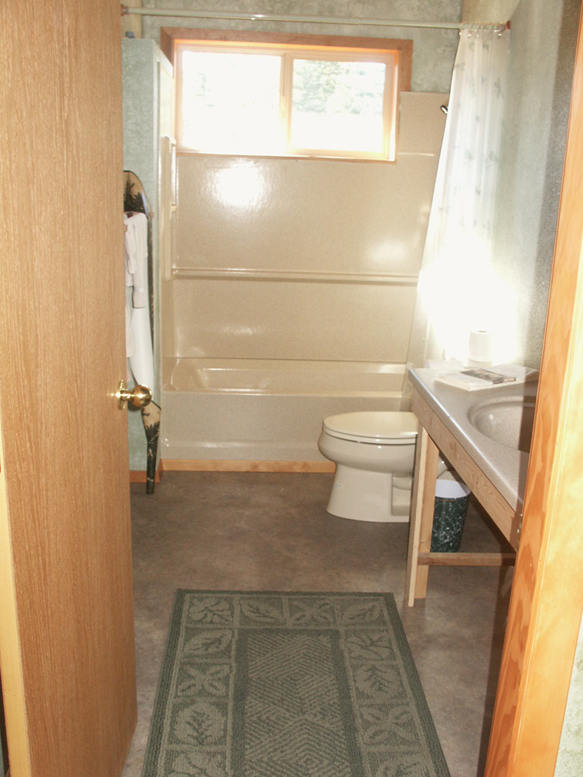 The downstairs inhabitants will have to share a bathroom.
---
We are SO looking forward to all of us being together:
And don't worry about no TV: There is plenty of entertainment: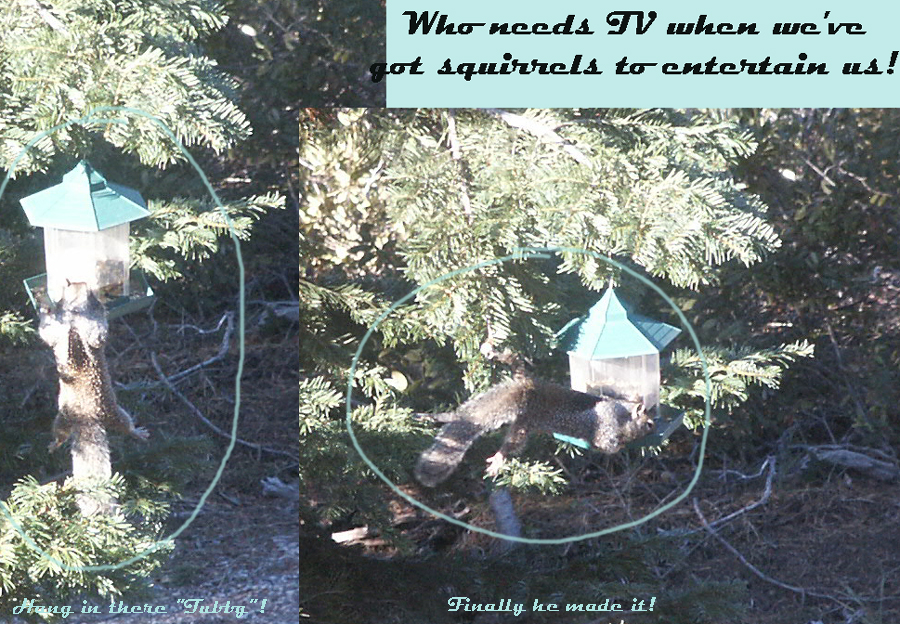 ---
Because of the dirt in our yard and the unfinished decking, we recommend NOT wearing white.
Plan to dress for cool evenings and warm days! The forecast is good!

---
Please let us know of any food likes/dislikes. If you eat breakfast (we will!), let us know what kind of juice you like, etc.
There is a grocery store in McCloud, but it is a half hour's drive.
We've found that with no electricity, we usually go to bed an hour earlier than usual and get up an hour earlier too to make the best use of the daylight.
---
One question we have concerns our cat Ribs. We've been bringing him up with us:


But we usually can't sleep well with him in our bed, so we close our door and leave him in the rest of the house. That would mean that Jody and Steph wouldn't be able to prevent him from coming upstairs and sleeping with them. Please let us know how you feel about this. We could leave him at home, or you could be OK with his sleeping with you, or we could take turns keeping him in or out of our room, however his kitty box is in the downstairs bathroom.....